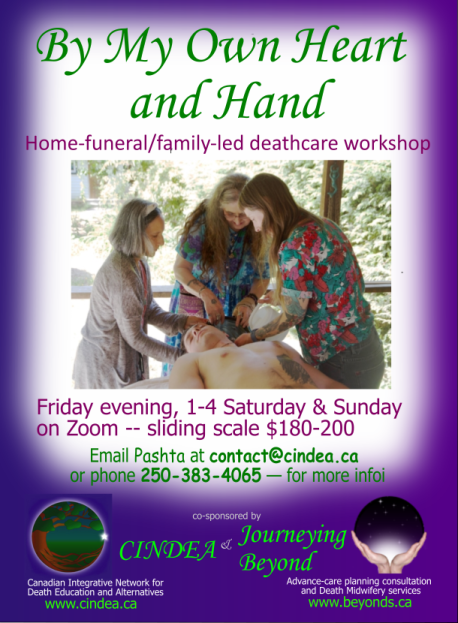 By My Own Heart and Hand
workshops are offered
'in person' on the Pacific West Coast (based in Vancouver Island, BC, Canada),
or by Skype (anywhere)
contact us for dates of further workshops or if you wish to organize one for your area
Disclaimer: Please note that the 1 1/2 days workshops are NOT full Death Midwifery
or Home Funeral Guide training courses (which are much more extensive), and only cover the basics of a home funeral.
The By My Own Heart and Hand workshops are primarily intended for families who are considering a home funeral in the future; and want to be clear on the timeline (what to do when), required paperwork (in that province/territory), and the physical deathcare (washing, dressing, moving and cooling the body). They are also used for Death Doulas and Funeral Celebrants who wish to add 'home funerals' to their 'toolbox'.
The workshop requires a minimum of 7 participants, with a maximum of 12-14 — in order to create the kind of intimate environment that most home funerals would actually have. They were usually hosted in a private home, so that it is easier for the participants to envision themselves doing a home funeral with their own loved ones, in their own home. However, post-pandemic, they are now held on Zoom. All are welcome.
The workshop starts with a Friday evening, watching a 'home funerals' related film and discussing it. This allows for the participants to centred into the subject, starting raising their personal feelings about home funerals (including their questions and concerns), and build an initial degree of intimacy and safety with the other participants.
Saturday (1-5 pm) starts with further ideas, questions and concerns that have arisen over the night-morning. The rest of that day focuses on the general timeline, and the required paperwork. Sunday (1-5 pm) focuses on the physical deathcare. Then there is a short time at the end to talk about initial ritualization of the home funeral process, and further training or organizing: some training groups choose to remain connected by online social media and/or continue to share resources/etc.
Workshop groups often stay connected — supporting each other with ideas and local resources, and even sometimes organizing pan-death events.
Preparing to carry the body with a sheet

A simple trick for washing the hair

Despite being paralized on right side, participant can help with washing

Getting all of the crevices

The workshop was wonderful and inspiring! Pashta is an amazing teacher and really knows how to make everyone feel comfortable doing something
that most people would shrink away from. Her work is helping so many families find the healing that they need and I am so proud to have hosted
and participated in such a beautiful crafted workshop. [Madeline Christie]


Safely rolling the body to expose the back

Washing back of neck

Washing the legs

deathcare outside in a Tiki hut

A very thorough, educational weekend that changed my belief from thinking I couldn't do something like that,
to one where I could see myself taking part in end of life support and home funeral activities. [D. Shantz]


Getting pants (or skirt) on

Shirt goes upside-down and topside down to start

Brushing teeth

Placing Techni-ice or Cryopak gel ice packs

I cannot express how meaningful my experience with home funeral training "By My Own Heart and Hand".
I really value the information covered of the various aspects of home funeral. The paperwork and logistics required to hold a home funeral was invaluable: the important timeline of the order of things that need to be done. Carrying, cleansing, and shrouding the deceased was accomplished in an atmosphere of utmost great care and reverence. These understandings and knowledge are what brings confidence to be part of, or even to help coordinate all that is needed immediately after a person's passing.
Thank you, Pashta for your wise, humorous and thorough way that you delivered this precious knowledge and skill set for those who wish to care for the deceased at home. [Alisa G]


Closing mouth and eyes

Shrouding the body (with a simple bedsheet)

Moving casket through doorways and stairs

Navigating casket down stairwell

Thank you so much Pashta for facilitating such a healing and heartfelt workshop. I was already interested in Home Funerals and green burials
and now that I have taken your workshop am 100% convinced this is the way of the future for myself and the planet. [Shawna Rasmus]
Please contact Pashta for further information including potential dates of planned By My Own Heart and Hand workshops,
or to request a workshop in your area, or to schedule a Skype version of the workshop.
Phone: 250-383-4065
Email: contact@beyonds.ca

The title of the workshop came from the following poem
AfterWards
Take her not from me.
Let it be this hand
Who wipes the folds of her flesh —
A final encore to fading days.
With each tender stroke,
May her seasoned soul unwind its threads
from this mortal coil.
With each grieving caress,
May her enduring love weave more tightly
into the whole of my being.
Take her not from me,
Until the last essence of who she was is truly gone,
And I have captured only what she left for me —
In this hand and heart.
Pashta MaryMoon