Greetings! We hope that you will explore Journeying Beyond 's pages on Death Midwifery services, and 'end of life' (EOL) and Advance-care Plannng consultations, in Victoria, B.C. All of the pages are listed on the left menu, as well as at the top and bottom of each page. You can get more information about Death Midwifery and Home Funerals by visiting the CINDEA pages on The Pan-Death Movement, Death Midwifery, and the Post-death Care/Home Funerals.


Journeying Beyond 's Death Midwifery services include 'end of life' consultations (comprehensive Advance Directives and Representation Agreements, as well as basic information on Power of Attorney/etc. documents), support for the Death Journeyer and their families throughout the pan-death process, funeral plans, funeral and/or memorial celebrant services, and initial grief counselling. 'Home funeral' services including an educational workshop — "By My Own Heart and Hands" (see dates below) — reviewing all of the practical elements of post-death care, necessary paperwork, and final disposition arrangements.

The term "pan-death" refers to the whole process, pre/during/post death — including education/information on post-death care at home and required documentation, which are often referred to as a "home funeral".
If you are interested in Journeying Beyond 's Death Midwifery & ACP/EOL planning services in Victoria, B.C.,
or wish more information about these and related services,
please contact Pashta via email or call 250-383-4065 (available by phone, email or Skype).

"By My Own Heart and Hands" —
a 'basics in home funerals' workshop
Victoria, BC, Canada — March 27/28 2015
(see further overview below)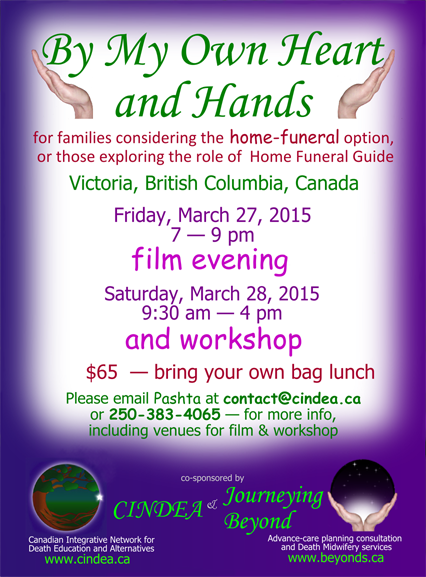 [Note: the January 2015 Saltspring Island workshop has been postponed until summer or early fall.]




"By My Own Heart and Hand — basics in home funerals" report on September 13-14, 2014 workshop

CINDEA and Journeying Beyond co-sponsored a "By My Own Heart and Hand — basics in home funerals" workshop that took place in Vancouver/Surrey BC on September 13-14, 2014. The event included an evening showing of "A Family Undertaking" and discussion, and a full-day workshop the next day — which included 'hands on' practice in post-death care, and a review of both the required paperwork and the general timeline of 'what is done when'.

This introductory workshop is primarily intended to help families in preparing for, and planning, a home funeral. However, it was also an opportunity for other alternative death-care practitioners to better understand the basics of a home funeral, as it might relate to the experience of their future clients — as well as being the practicum for two BC Beyond Hospice students. Many thanks to the evolving BC lower-mainland community for helping to organize this workshop. Further workshops are being planned for both the mainland and the islands.

My family used Pashta MaryMoon's services before and after the recent passing of our mother. While Pashta provides many services, for us, she was a support for both my mother and us children before the passing as well as after. With her help we planned both my mom's woodland green burial funeral for close friends and family, as well as her ceremony — open to everyone — later that afternoon. Pashta was the master of ceremonies for both events.

Death is not something I had very much experience with before my mother got ill. Pashta's experience and level of comfort with the dying process made it easier for the entire family. Her gentle nature helped us plan and organize an event no one looks forward to. Her ability to bring our family together to organize in a way that worked for everyone was amazing. The support she showed my mom in her final months was truly a blessing. The support she showed me as I cared for my mom full-time leading up to her death gave me the strength and self belief to realize that I could really do this.

Pashta has an amazing way with people. She made an effort to get to know as many friends and family as possible before the passing so she would be a familiar face at the funeral she was leading. The funeral and Ceremony were beautiful, personal and deeply moving. Pashta's kindness, support and help let our family be at peace before the passing and feel taken care of after.

From all of us we can't thank her enough for everything and would like to recommend her for anyone looking for a similar experience. (DS, daughter)
(return to top)





Articles
End of Life University interview

On July 24 (at 10 am Pacific time/ 1pm Eastern time), Pashta MaryMoon — director of CINDEA and Death Midwife for Journeying Beyond — talks about Death Midwifery, Bedside Singing and 'end of life' issues with Karen Wyatt. You can listen to this interview by clicking here.

Go to the 'End of Life University' online to sign up for email notification of the online interview. You can also buy an access pass for all of the EOLU 2013/14 interviews.
First Final Passages training in Canada took place in Duncan (Vancouver Island), B.C. — Levels I and II during April 12-15, 2013. A Home Funeral Guide guides families through post-death care, which is at home and family-directed (this includes the necessary paperwork). Pashta MaryMoon was the guest speaker on B.C. laws/regulations and the CINDEA organization in Canada. Contact us if you are interested in further Final Passages training and/or other ways of training to become a Home Funeral Guide or Death Midwife in Canada.

Pashta MaryMoon, Death Midwife for Journeying Beyond, is also the director of CINDEA.
More information about pan-death care is available on that site.
Please visit (click on the name graphic below) for more information on Death Midwifery in Canada.

| | | |
| --- | --- | --- |
| Pashta is also a member of the National Home Funeral Alliance — an extensive website addressing the Home Funeral movement in the U.S.A., although providing listings for alternative death-care practitioners both in the U.S.A. and other countries. | | |
Our thanks to Skeena web services for hosting this site
We also acknowledge the use of GRsites programs and backgrounds.